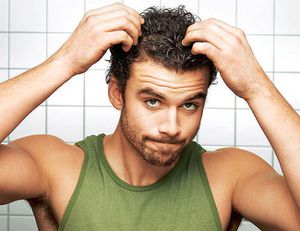 Top Hair Care Tips for Men
If you want to keep your hair in tip top condition, then this page is perfect for you. We are going to go through a few tips and tricks for ensuring that your hair looks sublime always!
Hair care products
Gels, pomades, waxes etc. all have their place. They can really take your hair style to the next level. However, it is important that you do not overuse them. You must remember that these products are packed to the brim with chemicals. Your scalp and hair will not like these chemicals. If you use hair care products daily, then you may be ruining your scalp. Your hair will become brittle and it just will not look good at all. You can use the hair care products from time to time, but not every day.
Washing your hair
There are a couple of points to cover here. Firstly, you do not need to wash your hair every day. If you wash your hair every day, you will be stripping natural oils away from it. When you strip natural oils away, your hair has no protection. This means that it is prone to breakage and sun damage. If you must clean your hair, give it a rinse down with water, let it dry, and then apply dry shampoo.
Secondly, try to think about the shampoos and conditioners that you are using in your hair. Purchase good quality shampoo. If you can, salt-free shampoo will work absolute wonders here as it will not have a 'damaging effect' on your scalp.
Trim your hair
Women tend to favor longer hair, this means that do not really benefit from this trick all that much. However, if you are a man searching for hair care tips, then it is going to be a godsend!
It is important that you keep your hair trim. By keeping your hair trim, you will find it easier to cut out any hair damage. This means that you will be kissing goodbye to split ends and hair frizz. Cut your hair every six weeks for the 'best' effect here.
Towel drying
Most men towel dry their hair. They won't go near a hairdryer. If you are going to go down this route, then be gentle. This is one of the top hair care tips for men that we can give. If you are going to rub your hair furiously, then this is obviously not going to do it that much good. Your hair will get tangled in the towel, stretching it. This can cause frizzy hair and split ends!
Using the right products
It is important that you use the right tool for the job. If you are using a hairbrush on wet hair, then you are doing things wrong! Instead, opt for a good comb. As always, it is important that you are gentle when it comes to styling your hair like this. If you have tangles, then gently tease them out. Do not just tear through them!